PaloDuroCanyon.net announces the launch of the 2017 4th Annual Photo Contest. Contest Rules are as follows:

Contest is open to persons age (18) or older.
Contest is void where prohibited, and winners are responsible for payment of any & all taxes which may be due.
The contest starts October 28, 2017 and the deadline for photo submissions is December 31, 2017 at midnight, Central Standard Time.

Prizes will be as follows:
First Place: $75
Second Place: $50
Third Place: $25

Payment will be made by either paypal.com or money order; method is winner's choice. First, Second and Third place winners photos and the photographer's names may be published on the first, second and third page headers of this website, as well as on other pages of this website and/or on social media sites at the publisher's discretion. Contestants certify by their photo submission(s) for this contest that photos were shot inside the boundaries of Palo Duro Canyon/State Park area of Texas only. No other photos will be considered for this contest. Images must be sent in jpeg format only to: photocontest@palodurocanyon.net

Images may be resized as necessary by this website for publishing purposes. Entries are limited to a maximum of (3) photos per person. Submitted photos may or may not be acknowledged at the publisher's discretion. Judging for this contest will be based on composition, creativity, originality, interaction and overall impression. PaloDuroCanyon.net's publisher, Mark Burris, retains the sole discretion and final decision over the selection of the final winners of this contest. Winners will be contacted by email and must respond within 5 days after delivery of an email acknowledging the win. Failure to confirm any winning selection may result in an alternate winner(s) selection at the publisher's discretion.


All photographs must be your own work, and you must own the right to distribute the image. You must have the consent of those whose faces are visible in the image. Upon request, you may be required to provide a release for each individual in the photograph.


Photos submitted must be of high quality. Photos with poor resolution, or out of focus, will not be considered; images that will also not be considered are those which contain nudity, violent or offensive material, or photos which are trademarked or copyrighted with all rights reserved.
Photos with visible watermarks will not be considered. Photos that have been digitally altered beyond standard optimization (removal of dust, cropping, reasonable adjustments to exposure, color and contrast, etc.) will be disqualified. Multiple exposures that have been combined to produce a single High Dynamic Range (HDR) image are acceptable.


You will retain all rights to any photograph you submit -- including ownership if applicable. You agree to give PaloDuroCanyon.net, its agents, publisher and/or owners a non exclusive right and royalty free license in perpetuity to publish the images submitted on this website, or related websites it may own or control, or social media sites at its discretion, without restrictions or reservation.

PaloDuroCanyon.net and its agent(s) or publisher may keep the files provided and archive the images on disk or in other electronic forms at its discretion. All photos submitted must contain the name of the photographer, and brief caption of the photo's content which will be subject to publisher edit as necessary. By entering this contest, participants thereby release and hold harmless PaloDuroCanyon.net and its agents from any and all liability for any injuries, loss or damage of any kind arising from or in connection with submissions made, or from this contest, or any prize won. Restrictions, conditions, and limitations apply. By participating in this contest, you agree to these terms and conditions. Images for the photo contest should be emailed in jpeg format only to: photocontest@palodurocanyon.net

Thank you, and good luck to all entrants!
Here are the winners from the 2016 3rd Annual Photo Contest:
2016 First Place Winner - $75 - Photographer: Jim Sanders of Canyon, Texas. Photo title" "Stepping Out"
3rd Place Winner - $25 - Photographer: Lynn Vass of Virginia Beach, VA. - Photo of Her Daughter Brittany Neilson, enthusiastically enjoying the visit to Palo Duro Canyon State Park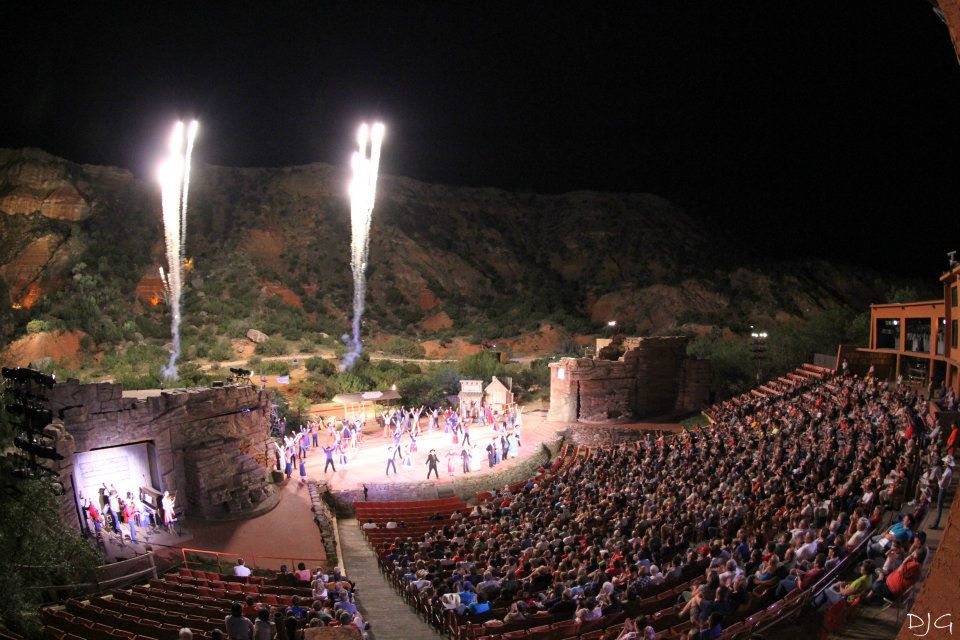 Texas Outdoor Musical 2015 Photo Courtesy of Texas-Show.com. Each summer this daily show is performed within the boundaries of the Palo Duro Canyon State Park. In the last fifty one years, it has been seen by more than 4 million visitors from all over the world. In 2015, the Texas Show celebrated its 50th anniversary.